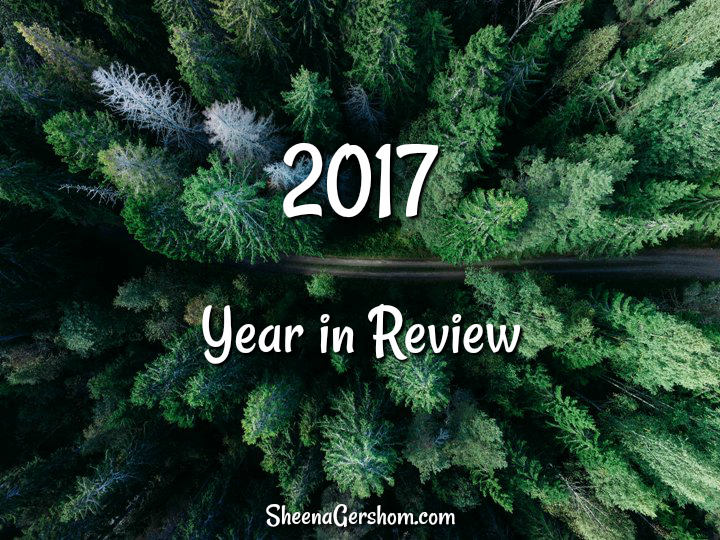 There's this exercise I do towards the end of every year…
I write down my thoughts about the year gone by, and reflect on it.
Some years, I have a lot of positive events to be report… while others leave me feeling disillusioned. But I've realized there's always something to be thankful for!
This annual exercise helps me in several ways:
I realize that every year has its own ups and downs.
I see evidence of the faithfulness of God through the months.
It shows me how far I've come since the beginning of the year.
It points out areas where I need to get my act together in the coming year.
It reminds me to thank God for His goodness and favor over my life.
I posted my annual review on the blog in 2014, and thought I should do it again this year…
If you'd like to review the past year as well, here are some questions to guide you.
1. What made you happy in 2017?
Our first ever family vacation! It took us 10 years and we needed to leave the country to do it, but Europe was a blast.
My husband rejoined our family in India after a year abroad.
The knowledge that God plans situations and events that work out for good, even if it didn't look good at first.
2. What made you sad?
My dear father-in-law went to be with the Lord a couple of months back. The loss is tangible but his legacy lives on.
Although I made a bit of progress, I didn't quite reach my Bible reading goals this year.
A few personal battles have left me feeling quite frustrated with myself.
3. What are you proud to have accomplished in 2017?
I started blogging again, albeit sporadically.
Freedom over crippling fear. It was a huge struggle but God helped me through.
The little seeds of faith we've been sowing into our sons' lives have started bearing fruit.
2017 has been a roller-coaster year. Each quarter was a different season that came with its own conflicting emotions.
January – March: Holding down the fort while my husband was away, and getting our travel documents in place.
April – June: Packing and traveling as a family of 5.
July – September: Getting back into our regular routines and catching up with school/work.
October – December: Grief, sickness, and Christmas.
I had chosen the word "Remain" for this year, and it was the only way we could make it through… by remaining in the Lord and resting in His promises over us.
In a nutshell, we experienced God's…
Protection over our family while my husband was away.
Guidance as we faced hurdles before we had to travel.
Wisdom as we readjusted to life after an intermission.
Comfort in the midst of our loss.
Peace in the midst of turmoil.
Strength through sickness and stress.
Grace on a daily basis.
Through a year of highs and lows, joys and sorrows, gain and loss, I'm learning never to take another day for granted.
God is teaching me to:
– Love hard.
– Learn just enough.
– Laugh often.
– Live well.
And that's something I'll be taking into 2018 as well…
As the Father has loved me, so have I loved you. Now remain in my love. – John 15:9
How was your 2017?
Photo Credit: Geran de Klerk on Unsplash
—————————————————————————————————————————
Sign up here to have new blog posts delivered directly to your email inbox.
You can also follow along on Facebook and Twitter.
—————————————————————————————————————————