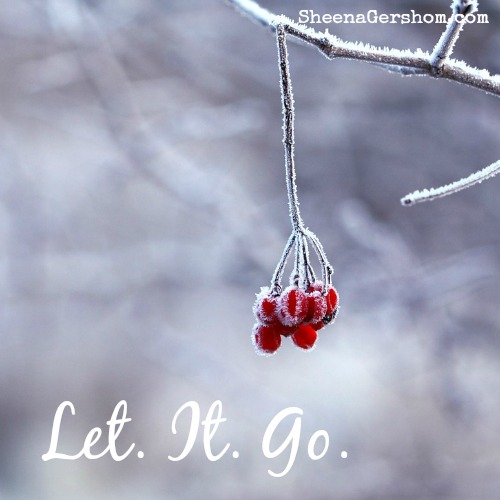 I started this week with a heavy heart.
3 children I knew (one of them, my own) were going through 3 different struggles – physical, emotional and spiritual. My heart was burdened for them, and I did the only thing I possibly could – I prayed.
I went to sleep Sunday night very disturbed about what each of these little ones had to go through. And I woke up Monday morning with an even heavier heart.
The fact that I couldn't do anything to help them only compounded my anxiety. I continued to pray, but my heart did not become any lighter.
As the day wore on, I was so consumed with thoughts of these children that it became exhausting. And then I heard it…
Let. It. Go.
I don't always hear something very specifically from God, but there are times when He speaks so firmly into your spirit that you can't deny it was Him.
This was one of those times.
That afternoon as I was pacing the footpath, waiting for the school bus to bring my boys back home, these 3 words took on a different meaning.
This wasn't Elsa's mantra, or a careless attitude. God seriously wanted me to let the kids go.
But why?
God reminded me that I was already praying for them; He held those precious children close to His bosom. He loved them more than I possibly could. He cared for them, and He could do for them what I personally could not.
Yes, I would continue to pray for them until my prayers are answered. But I would no longer worry about them.
I would offer to support them in any way I could, but I would not break my head over what I cannot do.
This whole episode taught me such a valuable lesson!
So often, we pray about situations that bother us but then continue to worry about them as well. Isn't it sufficient that we've already placed our burden in the hands of an Almighty God? Why then do we constantly try to ease His load by holding on to the weight with our petite hands?
If we have truly surrendered our problems into His able hands, we should be able to rest and allow Him to do the impossible.
So, does that mean we do nothing?
Absolutely not!
We continue to pray…
We continue to do what God has asked us to do…
We continue to trust Him to work things out…
But we DO quit worrying!
Is there something burdening your heart today? Leave it in God's hands, and then take your hands off!
Take a backseat, and let God steer you in the way He wants you to go!
"Do not be anxious about anything,
but in everything by prayer and supplication with thanksgiving
let your requests be made known to God."
(Philippians 4:6)
—————————————————————————————————————————
Sign up here to have new blog posts delivered directly to your email inbox.
You can also follow along on Facebook and Twitter.
—————————————————————————————————————————