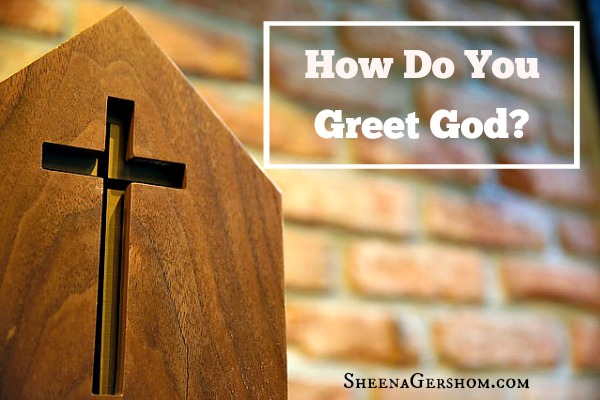 It was a Sunday night and the boys had just jumped into bed. My husband and I sat down beside them, so we could end the day together in prayer.
As Judah began to pray, we noticed that Jon was still reclining on his pillow. My husband asked him to sit up for prayer, but he was simply not in the mood to comply.
We took a few minutes to explain to Jon (and the others) why their stance during prayer matters. Here's what we said.
"Imagine Grandma just walked in through the front door. What would you do?"
"We'd jump up, and run to her," they said.
"Wouldn't you hug her, and talk to her about everything that's on your mind?"
"Yes!" they admitted.
"If you would do that for Grandma, won't you do that for Jesus who loves you, and has done so much more for you?"
… I think they got the point!
And I think I got it too…
When we sit down for time alone with God, our physical stance does not matter as much as the state of our mind.
What is our attitude when we approach God's throne of grace?
Do we approach the Master of the universe with reverential fear?
Do we run to our Father with overwhelming joy?
Do we get excited over what He's teaching us from His Word?
Spending time with God everyday is not a mundane ritual, or a non-negotiable duty.
It is life-giving…
Hope-inducing…
Fear-abating…
Joy-filling…
Peace-stilling…
Clarity-producing…
…time alone with our Father, Master, Savior, Creator, Brother, Shepherd, Redeemer, and Friend.
I am blessed to know Jesus, and consider it a privilege to meet Him without any hassles on a daily basis.
I'm learning to greet my God with a cheerful attitude every morning.
How do you greet God?
—————————————————————————————————————————
Sign up here to have new blog posts delivered directly to your email inbox.
You can also follow along on Facebook and Twitter.
—————————————————————————————————————————