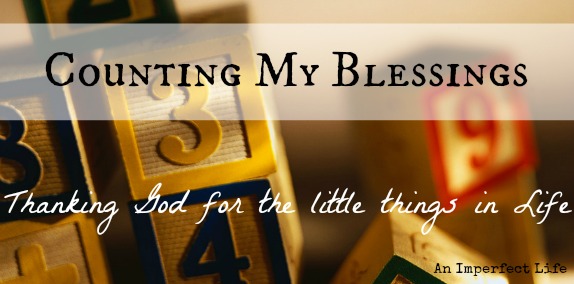 Every week (more or less), I share on the blog all the good things (and bad) I am grateful to God for.  If you'd like to know more, check out these blog posts on why I do it and how to get started.  Care to join me on this journey of intentional thanksgiving?
1391. Praises ringing in the new year.
1392. Reading Isaiah 54 aloud in church.
1393. The meatloaf my husband made.
1394. Jon gingerly stepping on a mud puddle.
1395. Three pairs of bright yellow pajama pants.
1396. The beginning of a crazy-busy 10 days.
1397. A daily routine.
1398. My new household planner.
1399. The look on my husband's face when he walks into a tidy home.
1400. Quiet mornings with my Bible and journal.
Are you in the habit of counting your blessings? I mean, literally counting them 1, 2, 3… Would you consider joining me on this journey? Would you dare to live fully, right where you are?
—————————————————————————————————————————
Sign up here to have new blog posts delivered directly to your email inbox.
You can also follow along on Facebook and Twitter.
—————————————————————————————————————————