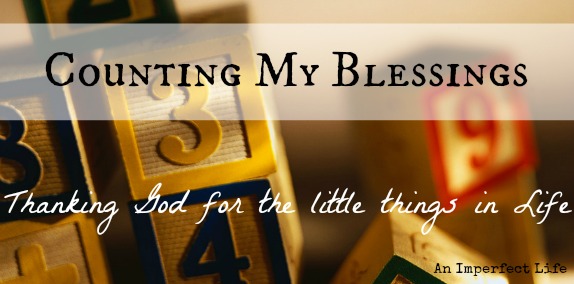 Last week, I reached a milestone – I had counted 1000 gifts since I began my journey in April 2012. I had a two-fold purpose in counting my blessings everyday:
To have a positive outlook on life.
To journal the everyday things I am grateful for.
Now, as I look back over the past year, I've found that I've reaped so much from simply counting my blessings.
1. The blessing of obeying God's Word
The Bible is filled with promises of blessing for those who obey God's Word. And God's Word says, "Give thanks in all circumstances, for this is God's will for you in Christ Jesus" (1 Thessalonians 5:18). So often we strive to find out what God's will is… Well, the above verses sums it up pretty well – God's will is for you to give thanks in all circumstances. It is easy to thank God when everything is fine and dandy. But when difficult situations arise, can we still thank God for them?
2. The joy of finding things I can be thankful for
This habit of counting my blessings has encouraged me to always be on the lookout for things I am thankful for. Whether it is a movie date with my husband or watching my boys cuddled up together fast asleep, I get excited and look forward to writing it down. Not a day goes by when the thought, "Oh, I should note this down in my journal", doesn't cross my mind.
3. It helps me be content with what I have
There are a lot of things I am not happy with – a rickety washing machine, sickness, temper tantrums… When I choose to give thanks, it helps me be content with what I have. The washing machine, though quite loud, still does its job pretty well. Times of sickness remind me to appreciate the days when we enjoy good health. And temper tantrums… well, they're no fun at all – but I get to have one-on-one time with the culprit, on the other side of the tantrum.
4. A testimony of sorts
"I will give you thanks in the great assembly; among throngs of people I will praise you." (Psalm 35:18)
The Bible encourages us to share with others what the Lord has done for us. Documenting my blessings does just that. I share it on the blog – that's my assembly. Some day, I hope this collection will also be my testimony to my boys – reminding them of God's hand in our lives.
5. A reminder of God's faithfulness
"I remember the days of long ago; I meditate on all your works and consider what your hands have done." (Psalm 143:5)
There are days I look back, read past journal entries and blog posts and I marvel afresh at God's handiwork in my life. The account of my past blessings encourage me, especially on those days when I'm in the pit of despair and feel far away from God. I recount all the wonderful things God has done for me and I'm filled with hope. I know that my God who's been my rock until now will keep me in the days to come.
Do you count your blessings? What side effects have you experienced?
To have new blog posts delivered directly to your inbox, you can sign up to receive them by email, or in a reader.