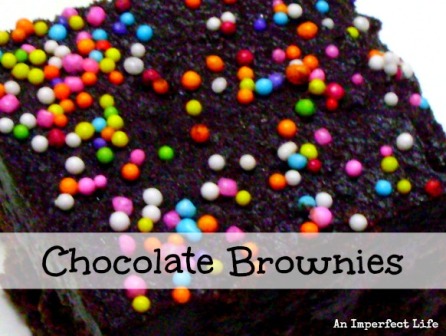 This was my first attempt at baking brownies. As expected, they were quite easy to make and with a few tips from a friend, turned out quite well. Here's how I made this lip-smacking treat.
Ingredients:
Brownies:
1/2 cup melted butter
1 cup sugar
2 eggs
1 teaspoon vanilla extract
1/3 cup cocoa powder
1/2 cup flour
1/4 teaspoon salt
1/4 teaspoon baking powder
Frosting:
3 tablespoons melted butter
3 tablespoons cocoa powder
1 tablespoon honey
1 teaspoon vanilla extract
1 cup icing sugar
Directions:
To prepare the batter, whisk the sugar, eggs and vanilla extract with the melted butter.
Add cocoa powder, flour, salt and baking powder and beat the mixture well.
You could also add chopped nuts or chocolate chips to the batter at this point.
Preheat the oven to 175 degrees (centigrade).
Prepare a baking pan by greasing it with butter and sprinkling a little flour over it.
Pour the batter into the prepared pan and bake for 25-30 minutes until firm.
Combine all the frosting ingredients together and mix well.
Frost the brownies while they are warm and add sprinkles or chopped nuts.
Refrigerate the frosted brownies and then cut into squares.
Recipe Courtesy: Allrecipes.com
There you have it – a delicious dessert made in less than an hour. If you do try out this recipe, let me know how it turns out!
To have new blog posts delivered directly to your inbox, you can sign up to receive them by email, or in a reader.