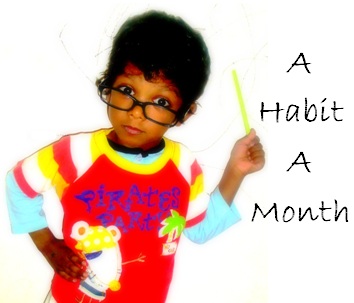 It's about time I posted an update on the habit I've been trying to master for the past few months. I could blame four trips in four consecutive months, extended sickness or just life in general :). But in all honesty, I began intentionally reading to the kids only this month.
Sure, I read about 10 books a month to keep up with my monthly goals, but it hadn't become a part of our evening routine until November. Well, now that I've finally got a hold on consistently reading to the kids, I've gained enough gumption to blog about it.
I had to first give up some of my ideals in order to facilitate a better reading experience for the kids. I realized that it's ok if the kids are fidgety when I'm reading. I didn't want it to be a rigid time; I wanted them to enjoy reading with me. Another thing I settled for was just reading 3 or 4 times a week, rather than everyday. Fridays and the weekends are usually hectic for us, and I didn't want reading to become just another must-do amid the chaos.
All that being said, here are a few ways I've incorporated reading into our daily schedule.
Reading the Bible: This is something my husband and I do every night with the kids. It has become an integral part of their bedtime routine. Sometimes we paraphrase the story and show them the pictures alone. Other days we read their Bible word for word with them.
Kindle books: I've amassed about 1000 free children's books and I use the Kindle app for PC to read the books on our laptop. This is also my most preferred method of reading, as it's easier for all three boys to view the book at the same time. We started with picture books and we're now moving on to simple stories.
Real books: Once in a while we actually sit down with a story book and read. The sons' favorite book is one about a tractor that was gifted by a friend a couple of years back.
A happy moment for me was when we read "Bear Learns to Share". The boys were engrossed in the book and actually understood the moral of the story. I'm hoping that reading to them now, and encouraging them to read as they grow older will foster a love for reading in them.
To Do: Continue reading to the kids – at least 12 books a month.
To Ponder: "Children are made readers on the laps of their parents." – Emilie Buchwald
Habit for December: Take my vitamins regularly. I constantly forget and regret it when I find myself feeling weak or lacking energy. So, in the coming month, I'll be working out a plan to remind me to take my vitamins regularly. And if all goes well, I'll be blogging about it towards the end of the month.
"A Habit A Month" challenge is about working on just one habit a month – one small step at a time. Focus on just one area in your life that needs an overhaul and make it the habit you want to develop in the coming month. It could be as simple as waking up early or spending time with God everyday. This is an opportunity for you to actually take a step forward and work on that one good habit you've always wanted to develop. Or kick that one bad habit that has always been nagging your conscience. Are you up for it? Who's with me?
To have new blog posts delivered directly to your inbox, you can sign up to receive new blog posts by email, or in a reader.