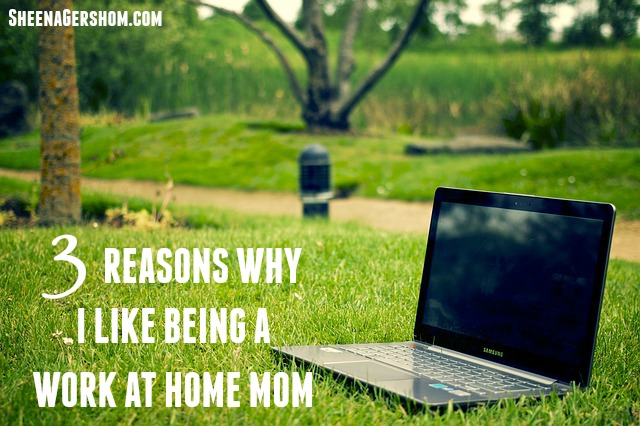 The Back Story
Once upon a time (when I was 14, to be exact) I decided I wanted to become a computer programmer. The following years were spent preparing for a future in the IT industry.
I chose the Computer Science track for my final years of school, and completed my Masters in Software Engineering too. During my last year in college, I even got placed in a good IT company.
I thought I had it all.
But then my dream crumbled, and I realized corporate life did not give me the satisfaction I craved. I loved being employed though, and grumbled a lot when I had to give up my job to become a full-time mother of triplets.
Eventually, God helped me embrace my role as a wife, mother and homemaker. But 2 years ago, He also unexpectedly gave me the opportunity to work part time from home.
I now have the best of both worlds. I get to work, AND be there for my kids.
While there are challenges in trying to balance a work at home career, there are three specific reasons I prefer working from home.
3 Reasons Why I Like Being a Work at Home Mom
1. I get to use my talents
I remember creating my first website in college. We had to type in raw HTML code into a notepad and open it in a browser. My, how times have changed!
Setting up a simple blog takes less than an hour these days. Although I don't deal with a lot of code now, I still get to fiddle around with HTML and CSS once in a while. I get to use the logic-oriented side of my brain to lay out web pages based on the instructions given to me.
I also rediscovered my love for writing when I started blogging, which has branched out into content writing for client websites. Writing code and content online – that is pretty much my sweet spot right there!
2. I get to stay home
Hiring a full-time cook/nanny/housekeeper is expensive, as is daycare for 3 children. We bypass these expenses because I'm always at home.
I usually work when the kids are at school, but my work hours are flexible to accommodate real life. This comes in handy when the kids fall sick, unexpected guests drop in, or even if we have to travel to visit my parents or in-laws in another state.
I can work from anywhere, provided I have my laptop and an internet connection. I've had to work extra hours to meet deadlines, but that is not the norm. I'm usually able to finish my work in time, so it doesn't affect my other duties at home.
I salute those mothers who are up at the break of dawn to take care of their family's needs before heading out to work. I wish I had that kind of stamina, but I know my limits. I'm well aware that working a whole day outside the house would leave me exhausted with nothing left to give for my family.
3. I get to be of help
Yes, I do get paid a reasonable sum. But that is not my incentive to work. I know that the work I do is personally benefiting someone else, and that's what keeps me going. This is one essential factor that was sorely lacking at my corporate job.
Right now, I work solely for Sunu Philip – founder of Clothed In Scarlet and Get Found Online. I'm proud to say, she is both my employer and friend. Over the past couple of years we've developed an easy camaraderie as sisters in Christ, and I'm glad I can use my strengths to assist her with her business.
I don't know how mothers who work full time outside the house do it all. Hats off to you! On the other hand, a huge applause to stay at home moms who've given up dreams and careers so they can savor the growth of their children first hand. Being a stay at home mom is a full time job in itself!
No doubt, the choice you've made is the best possible one for your family. Each of our circumstances are different, and we've each chosen to stay at home, work at home, or work outside the home based on what's best for our family.
God has uniquely qualified and equipped you to do your best in all the roles you've undertaken. He will give you the grace to not just survive, but thrive!
---
Sign up here to have new blog posts delivered directly to your email inbox.
You can also follow along on Facebook and Twitter.
---