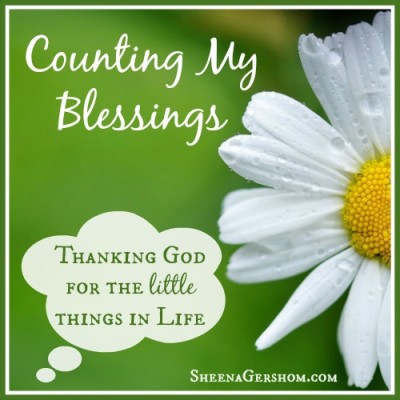 Every week (more or less), I share on the blog all the good things (and bad) I am grateful to God for.  If you'd like to know more, check out these blog posts on why I do it and how to get started.  Care to join me on this journey of intentional thanksgiving?
1581. Complete healing from sickness.
1582. The boys regaining their appetite.
1583. That I am home to watch over the kids when they're sick
1584. Time spent at God's feet.
1585. Lessons learnt from His Word.
1586. That the kids were able to catch up with the lessons they missed in school.
1587. A visit from an extended family.
1588. Faith displayed in dire circumstances… So inspiring!
1589. The all night worship & prayer my husband got to attend at church.
1590. Getting back to church and ministry.
Are you in the habit of counting your blessings? I mean, literally counting them 1, 2, 3… Would you consider joining me on this journey? Would you dare to live fully, right where you are?
—————————————————————————————————————————
Sign up here to have new blog posts delivered directly to your email inbox.
You can also follow along on Facebook and Twitter.
—————————————————————————————————————————