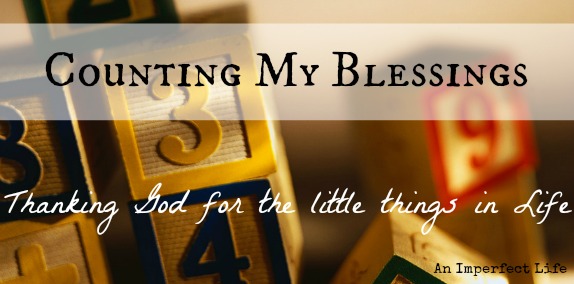 Every week (more or less), I share on the blog all the good things (and bad) I am grateful to God for.  If you'd like to know more, check out these blog posts on why I do it and how to get started.  Care to join me on this journey of intentional thanksgiving?
1411. A friend's faith, growing through the trials.
1412. Making progress on my simple goals – encouraging.
1413. The boys showing an interest in music.

1414. Jon asking, "Mama, how do we give our bad things to Jesus?"
1415. The frustrations of mothering triplet boys.
1416. The joys of mothering triplet boys.
1417. Strolling through the mall with the family.
1418. Chai with friends – always a blessing!
1419. Bargain sales.
1420. Watching Iron Man 3 with my husband, again!
Are you in the habit of counting your blessings? I mean, literally counting them 1, 2, 3… Would you consider joining me on this journey? Would you dare to live fully, right where you are?
—————————————————————————————————————————
Sign up here to have new blog posts delivered directly to your email inbox.
You can also follow along on Facebook and Twitter.
—————————————————————————————————————————