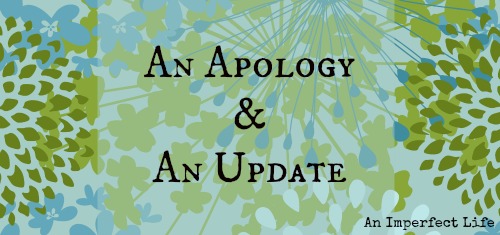 The Apology
It's been almost a month since my last blog post. While I know no one is waiting with bated breath for a new post to hit their inboxes… I feel I've let God and myself down by not writing in this space.
This blog is more than an online journal for me. It is a calling to embrace my love for the written word, and to encourage others through it. For ignoring that, I apologize…
Over the past 3 weeks, I've experienced a lot of physical and emotional lows that waged a war in my spirit and left me drained. With the boys falling sick, pressing deadlines at work and a new dimension of my husband's ministry through our local church, I couldn't handle it all and I flailed.
It took me a while (and a whole lot of God's help) to get back on my feet and regain my focus! 🙂
The Update
I'm amazed every time someone tells me they were encouraged through my blog or the verses I share on Facebook. But I know I shouldn't be – God has some use for even the cracked vessels of this world! God has a way of coating my imperfections with His grace to give His children the words they need to read… and for that, I'm grateful!
Considering that this year has been the most pathetic ever in my blogging career, things can only get better, right?! 😉
I hope to write more – even if it's imperfect and not very pretty. Writing about God, His grace and the lessons He's teaching me is a balm to my soul, and I pray it will be to yours as well.
Wishing you God's best,
~ Sheena
—————————————————————————————————————————
Sign up here to have new blog posts delivered directly to your email inbox.
You can also follow along on Facebook and Twitter.
—————————————————————————————————————————