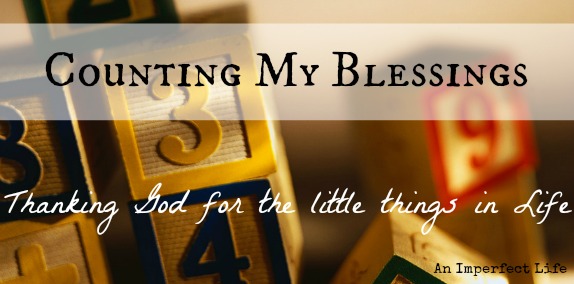 So here I go again, sharing all the good things (and bad) I am grateful to God for.  If you'd like to know more, check out these blog posts on why I do it and how to get started.  Care to join me on this journey of intentional thanksgiving?
1221. LEGO creations taking over our living room.
1222. Identifying footprints and tire tracks on the road with the kids.
1223. That Jason tripped & fell, but didn't get hurt.
1224. Extreme budgeting at the grocery store.
1225. A store that offers home delivery.
1226. Trying to cheer up cranky kids by being goofy.
1227. Milk chocolate.
1228. The craziness of 3, day long power cuts – thankful we don't have to experience it every day.
1229. My first coconut broomstick – makes me feel like a proper South Indian housewife.
1230. Wisdom.
1231. The kids excited about their glow-in-the-dark T-shirts.
1232. My first grandfather umbrella – this monsoon's not going to get the better of me!
1233. Listening to an audio book on my morning walk.
1234. A pastoral team that cares.
1235. Hearing the kids sing this over and over again…
Jesus paid it all, all to Him I owe
Sin had left a crimson stain,
He washed me white as snow.
Are you in the habit of counting your blessings?  I mean, literally counting them 1, 2, 3… Would you consider joining me on this journey?  Would you dare to live fully, right where you are?
To have new blog posts delivered directly to your inbox, you can sign up to receive them by email.