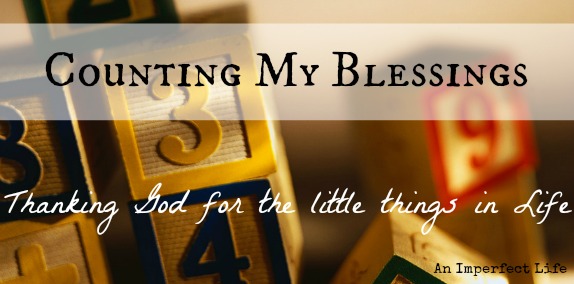 Every week, I share on the blog all the good things (and bad) I am grateful to God for. Join me on this journey of intentional thanksgiving?
A Gift Wrinkled, Smoothed, Unfolded
887. Clothes in the washing machine.
888. Folded laundry.
889. A fresh towel.
3 Gifts Found in Christ
890. Wisdom.
891. Intercession.
892. Hope.
3 Gifts Blue
893. Three pairs of blue jeans.
894. A nebulizer.
895. Picture frames displaying photos of our trio.
A Grace Borrowed, Found, Inherited
896. A friend's CD.
897. Peace of mind :).
898. Two mini ovens.
A Gift before Dawn, at Noon, After Dark
899. Stillness.
900. A conference at church.
901. Watching a movie with my husband.
3 Gifts in the Kitchen
902. Boys yearning to help in the kitchen.
903. Baking brownies.
904. A simple, nourishing lunch.
3 Graces found in Friends
905. A listening ear.
906. Prayer support.
907. Expert advice.
Are you in the habit of counting your blessings? I mean, literally counting them 1, 2, 3… Would you consider joining me on this journey? Would you dare to live fully, right where you are?
To have new blog posts delivered directly to your inbox, you can sign up to receive them by email, or in a reader.