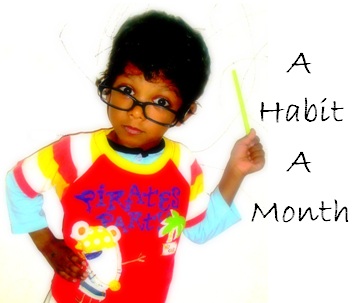 Another month, another new habit to master. Over the past 2 months I have made considerable progress in watching my mouth and minimizing the time I spend online (On a related note; our electricity board seems to be doing a better job at minimizing my online presence ;)). But in the meantime, I have let an important factor slide by the wayside – my health.
You know how in December, you cut yourself some slack and indulge in some Christmas goodies… Well, I'm still slacking… and snacking…! I purposely did not include dieting or exercising in my plan for this year – I wasn't sure I could make the commitment to do either.
But sadly, the time has come when I cannot ignore my health any longer. I find myself low on stamina and high on the scales… Not that the actual weight matters… well maybe just a teeny tiny bit ;). Anyway, I'd like to be fit enough to take a 10 minute walk without needing another 10 minutes to catch my breath!
So, this month, I propose to implement the habit of a healthy lifestyle. Nope, not aiming for the moon. Just taking baby steps that will hopefully make a difference in my health. In March, I will strive to:
Drink at least 8 glasses of water a day.
Consume less sugary snacks and snack on fruits instead.
Find some way to exercise at least 15-30 minutes every weekday.
After failing miserably in controlling my food intake last month, I hope to do a better job this time around. I know it takes time & practice & loads of self control – God help me please! I have been reading several blog posts on healthy living and I hope to incorporate some of those strategies to improve my own health.
By the end of this month, I hope to establish healthy habits that will last a lifetime. I spend countless hours everyday getting myself spiritually and intellectually fit. I don't want to miss out on getting myself physically fit – so I can actually live life the way God intended me to.
If you like this idea, why don't you take this up as a challenge? Focus on just one area in your life that needs an overhaul and make it the habit you want to develop this month. It could be as simple as waking up early or spending time with God everyday. This would be an opportunity for you to actually take a step forward and work on that one good habit you have always wanted to develop. Or kick that one bad habit that has always been nagging your conscience. Are you up for it? Who's with me?