My husband and I constantly try to teach our sons the importance of God in our lives. But sometimes we wonder whether they really do understand how personal God is to each one of us, individually. And then they "talk" to God – so innocent & child-like (as only children can), that it makes us wonder if they are actually teaching us something much more deeper…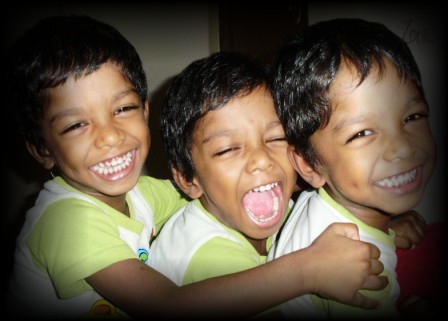 Here is a sampling of what each of our sons say – as they literally "talk" to God in a very personal way.
JASON
Jason: Mama, where is Jesus?
Me: Jesus is in your heart, baby…
Jason: Mama, I want to see Jesus!
Me: Ask Him, Jason… Tell Jesus you want to see Him.
Jason (in a sing-song voice): Jesus! Where are You???!!!! I want to see You!!
JON
(after a major fall & a badly bruised foot)
Binny (to the other boys): Shall we pray and ask Jesus to heal Jon?
Jon: Dada, Jon already talked to Jesus… Jon asked Jesus… Jesus healed Jon's leg!
JUDAH
(peeping out the door at the sky on a rainy day)
Judah: Jesus, please switch off the rain… Judah wants to go out and play!
Now, if only I could learn to "talk" to Jesus with child-like faith as our sons do!!!