"My beloved is mine, and I am his." (Song of Solomon 2:16)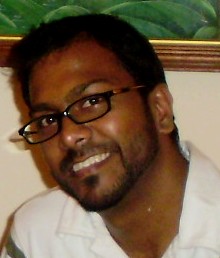 Today my husband celebrates his 31st birthday.  I just wanted to use this space to remind myself of all the things I love about him – and as an appreciation of his love for me over the past 5 years.  Oh and before I forget…  This was also the day 5 years back when we realized that there was the slightest possibility that God had destined us to live the rest of our lives together.  Why 31?  Well, just because he turns 31 this year :)!
So, here goes… 31 things I love about my husband:
His love for God – that exceeds everything else in his life.
Commitment to the ministry that God has called him to – as a singer/worship leader.
Love for music – although I may not appreciate all the genres he likes ;).
The way he plays his guitar.
His voice – whether he's singing or just talking.
His impromptu compositions that leave me and the sons laughing till our stomachs hurt.
He is hilarious – with his funny faces, actions & impersonations.
Teaching the kids to play football.
Teaching the kids to pray & read the Bible.
Teaching the kids new praise/worship songs.
Getting the kids to do their homework.
Letting me take a break when I'm on the verge of insanity.
Home & work life balance.
Dedication at his job.
Getting the house back in order when it looks like a tornado went through it.
Taking over the dishes when the kitchen sink is overflowing.
Giving up football to take me out on my birthday.
Buying dinner when I'm unable to cook.
Making burgers on Saturdays!
Surprise hugs & kisses.
Sharing anything interesting he finds on Facebook with me.
His excitement over doing anything together as a family.
Pushing the bike away from the house before starting it in the mornings – lest the kids hear it and wake up.
Bringing in the clothes when it starts raining.
Being tidy.
Eating whatever I cook – even if in most cases it's inedible.
Taking the kids out on a drive – just because.
Crazy jokes that make me laugh, even if I find them really dumb!
For encouraging me in my latest endeavor – be it dieting, exercising or blogging.
For reviewing, promoting and moderating my blog.
For who he is – body, mind and soul.
I just realized I've got more to add… I guess I could always do it the easy way and tell him directly! 😉
If you don't want to miss a future post, you can sign up to receive new blog posts by email.